The Charles B. Phillips Public Library District began in 1924 as a Mother's Club. In 1960 with a generous donation from Mr. Charles B. Phillips the Library we have today was built. Then in 2002 a referendum was passed creating the Charles B. Phillips Public Library District.
History of the Library
The Charles B. Phillips Library began as a Mother's club in 1924. The names was changed to Newark Women's Club in 1934 to permit greater diversity of members. The Newark Mothers Club was instrumental in starting the Newark Community Library, the nucleus of the library being books that were donated or loaned by club members. Books were borrowed from State Library at Springfield and Miss Amy Brown was the first librarian. From the beginning, club members have alternated in acting as librarian. (The only time the librarian was salaried was when the library was under the supervision of the W. P. A. –Works Progress Administration.)
The first Newark Community Library was a building adjacent to the Newark Fire House, 109 Front Street. In 1955 when the lot was needed for expansion of the Newark Fire House this first library building was sold and moved to 206 Johnson Street, where it serves as a garage. In 1935 the books were moved from 109 Front Street location to 105 Front Street. In 1942 the library books were moved to 102 Front street. however they only stayed there for a short time before they were moved to 109 N. Jackson Street. Newark Women's Club purchased a bungalow in 1945 and it was thought that the library had a permanent home. However, before many years passed it was realized that the increased volume of books required a larger building. In 1961 Mr. Charles B. Phillips of Aurora, Illinois was approached by two courageous Ladies for the Newark Women's Club asking for his help in building a library in his native village. He seemed pleased with this idea and generously gave $20,000. He had one wish, that was the it must be started before the first of 1962.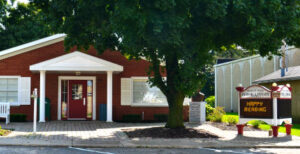 The Slone building and two lots on Jackson street were purchased in the fall of 1961 The building was razed by men of the Newark community and construction of the new library begun immediately. The library was completed in the spring of 1962, and open June 3, 1962. 1999 the Newark Women's Club became the Friends of the Library. 2002 The Friends decided that the Library should become a Library District and put for a referendum which was passed. July 2003 Charles B. Phillips Public Library District became a full member in the Prairie Area Library System open its door to the public. Phillips Public Library District.